Andrew has taken over the cooking. meal planning, and grocery shopping. Which is wonderful, not only because I don't have to do it after work anymore, but he is a way better cook than I am. He has more patience than I do and is more willing to try new recipes. One of the new recipes he tried, that we absolutely love is this cabbage soup. The recipe and the photo are originally found
here.
This soup doesn't look like much, it took a little bit of planning to make, and it sounds a kind of weird to have bread in soup, but oh my goodness it's amazing. Andrew says it was worth all of the work since we both enjoyed it so much. And it is filling, way more filling than most soups. We loved it and are definitely keeping it on the menu list!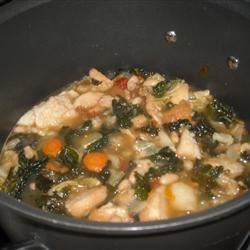 Cabbage Soup
2 cups dry cannellini beans
4 cups water
3 (32 ounce) cartons chicken broth
5 cloves garlic, minced
4 sage leaves
2 bay leaves
1 teaspoon salt
1/2 cup olive oil
2 onions, diced
3 carrots, peeled and sliced
3 large stalks celery, chopped
2 potatoes, peeled and cut into chunks
1 1/2 cups cabbage, coarsely chopped
1 bunch Swiss chard, trimmed and chopped
1 bunch kale, trimmed and chopped
1 (14.5 ounce) can diced tomatoes
12 (1/2-inch-thick) slices French bread, lightly toasted or stale
salt and freshly ground black pepper to taste
1 1/2 cups grated Parmesan cheese for topping
1/2 cup olive oil
Sort and rinse the beans before placing them in a large pot with the water. Bring to a boil over medium-high heat and cook 5 minutes. Turn off heat, cover, and let stand 1 1/2 hours. Drain.

Place the beans, chicken broth, garlic, sage leaves, bay leaves, and salt in a large pot. Bring to a boil over medium-high heat. Reduce heat to low and simmer until beans are tender, about 2 hours. Cool. Remove 1 cup of beans. Discard the bay leaves and sage leaves. Blend the remaining bean mixture with a hand mixer until smooth. Set aside.

Heat the olive oil in a large pot over medium-high heat. Add the onions; cook and stir until transparent, about 10 minutes. Combine the carrots, celery, potatoes, cabbage, Swiss chard, and kale with the onions. Stir in the tomatoes. Season with salt and pepper to taste. Cover, and cook until greens have wilted, stirring at least once, about 20 minutes. Stir in the pureed bean mixture, and cook 40 minute until the mixture thickens. Stir in the reserved beans. Adjust seasonings to taste. Add the toasted bread slices; cook until bread is soaked, about 10 minutes longer. Cool, and refrigerate overnight.

Reheat the soup over low heat until heated through, about 20 minutes. Serve each serving garnished with 2 tablespoons Parmesan cheese and a drizzle of olive oil.